For many Star Wars fans, creating the perfect Star Wars home office is not only an exciting challenge it is a dream come true. George Lucas' film franchise has become one of the most iconic brands in the world. And has grossed over $10 billion since the original Star Wars movie was released in 1977.
With an array of memorabilia from the beloved franchise, it can be a brilliant experience to create a practical workspace that also captures the spirit of Star Wars.
Is the force strong with you? Are you a Star Wars enthusiast who's forever dreaming of an intergalactic experience from your home office? Creating the perfect Star Wars home office is actually easier than you might think.
Whether you're a fan of the classic trilogy or the more recent releases, this article discusses how to use Star Wars memorabilia to make a home office that is both practical and full of dramatic, out-of-this-universe flair.
Strap in, I've got a good feeling about this…
The Star Wars franchise has been a worldwide phenomenon for more than four decades, and now you can bring its iconic style into your home office.
Surrounded by the characters you love and by the spaceship symbols you adore is a unique way to decorate your Star Wars-themed workspace. Carefully choosing action figures, posters and wall art including iconic characters like Darth Vader, Luke Skywalker, Han Solo and Chewbacca and creatively displaying them will give you hours of fun while working and relaxing.
It does not matter if you love the original, the prequels or the sequels. Options for creating your own Star Wars home office are plenty regardless of preference. 
Framing wall art featuring images from your favorite movies or inspiring artwork will provide eye-catching decoration. I suggest framing in either black or white frames of the same size and hanging them in a series of (9 0r 12) which will provide a stylish touch to your design.
Be mindful of your thoughts, they can betray you. But also be mindful of placing too much Star Wars merch in the background of your home office. It can be a little too distracting for online meetings.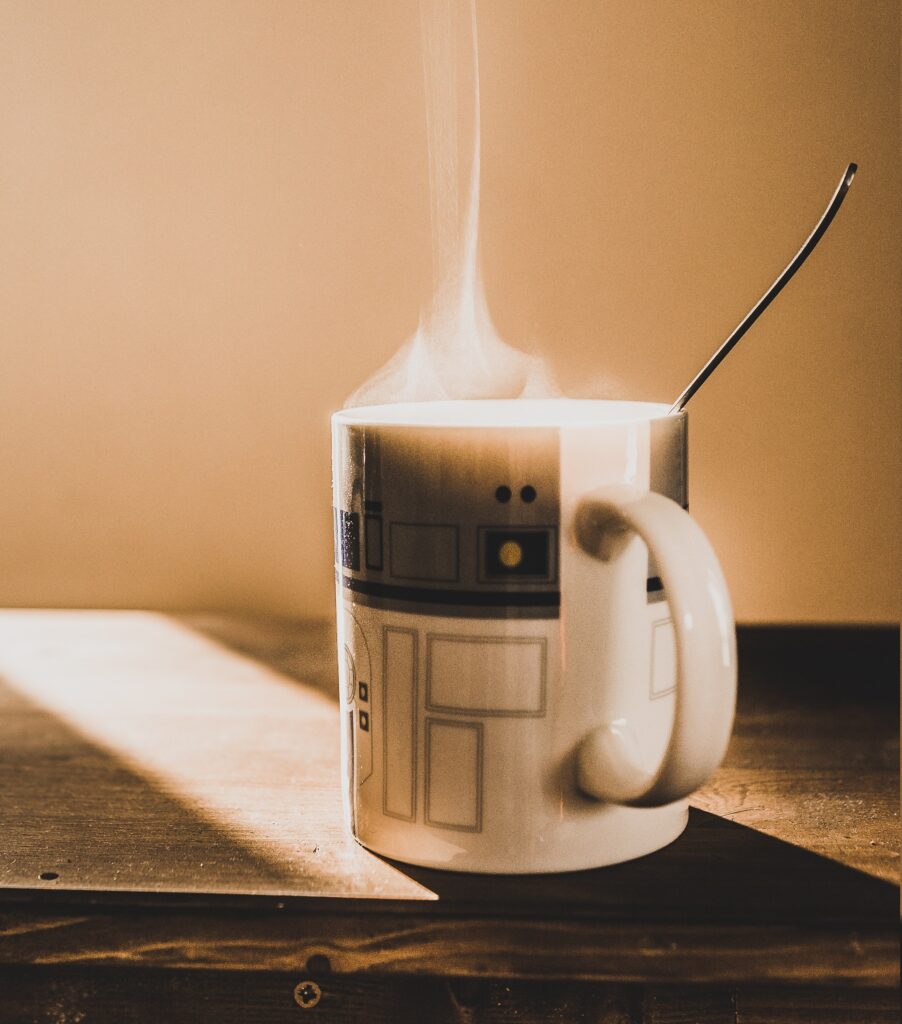 Creative ideas for your Star Wars workspace
Get creative and hang star wars lunch boxes or vintage trading cards in custom-made perspex boxes. This is a great way to show off your dear collection. 
You could even use custom furniture modeled after spaceships from the trilogy series such as an X-wing desk or a Yoda bookshelf! The possibilities are endless. Maybe you could find some Star Wars furniture acting like a couch for relaxing on when not in work mode. 
Our amazing and out-of-this-world home office could feature a life-size Boba Fett which guards the curved command center, a custom desk surrounded by iconic patterns, inspired by significant locations in the galaxy.
The circular pattern in the floor could mimic the Dejarik chess board used in starship films, the walls backlit to resemble the infamous Death Star. Or a moon. Depending on the distance from where you see it. 
Even if you think you have everything in your Star Wars home office dream space, I bet you don't light it with an exploding Death Star Chandelier. Believe it or not, you can make your own from a store-bought pendant lamp.
Wallpaper is also once again in fashion and Star Wars wallpaper never goes out of style.
If you're a serious Star Wars fan whose aim is to make an interior design impact, pulling a Jabba The Hutt and making a life-size Han Solo frozen in carbonite is your ultimate showpiece.
While this custom-made piece probably costs several thousand dollars, you can achieve the same look with a 3D wall decal.
Possibly one of the best Star Wars home office ideas is the TIE fighter chair from designer Kenneth Cobonpue. This unique piece of furniture is something that very few other Star Wars fans are likely to have and adding a chair like this to your room is the ultimate showpiece.
Remember, if you choose the theme of a Galaxy far, far away it doesn't have to be messy. A Star Wars home office can just as well be minimalistic and free of clutter. It is all down to what you want to do with your space.
Remember. Clutter is a path to the dark side. Clutter leads to mess. Mess leads to frustration. Frustration leads to demotivation. And demotivation is suffering.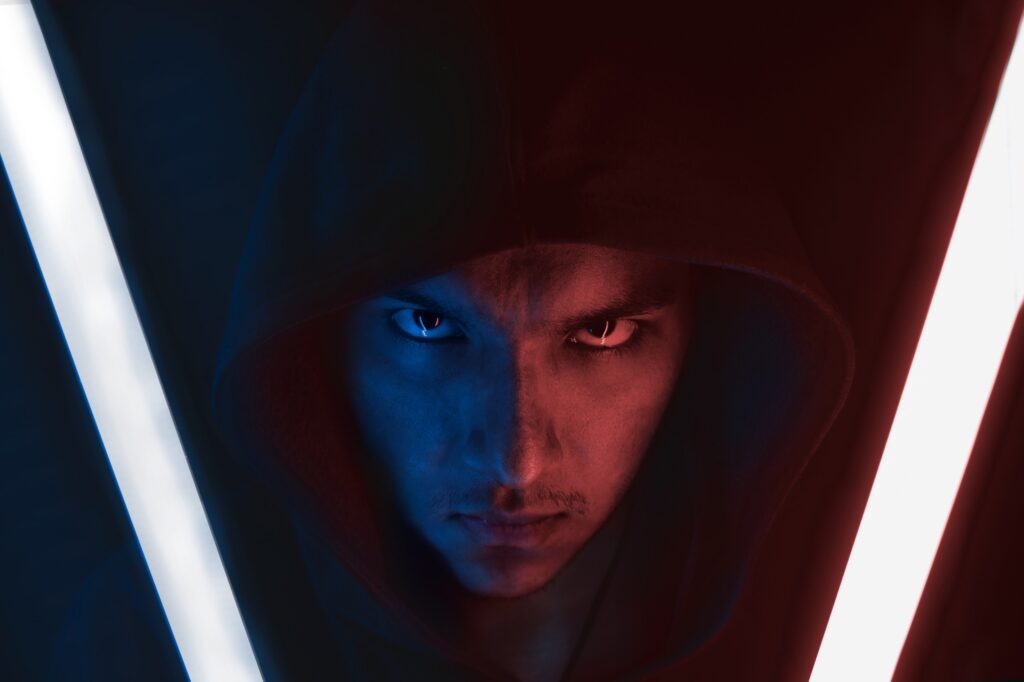 Consider how much you are willing to spend on the setup, and whether you want a more subtle or overt Star Wars theme.
Did you ever hear about the tragedy of Darth Plagueis the Wise? Well, it is a Sith legend about this guy spending all of his money on creating the perfect Star Wars home office. He was extremely happy though, but without any money.
Setting up your intergalactic workspace can be an expensive endeavor, so it pays to consider how much you are willing and able to invest.
While it may be easy to jump in and start buying products and furniture without any plan, creating a well-thought-out budget for your Star Wars home office can help you make sure that you don't overspend or miss out on an important detail.
To get started, think about what items you want to include in the layout and how much they will cost. Stick to your budget and don't aim for Jedi Master or Sith Lord at once. Small steps as a padawan learner and buying a few items or furniture here and then are perfectly fine. 
Consider investing in quality pieces that will last longer than the cheaper alternatives on offer, or price custom-made items first.
Be strategic, and take into account smaller details like lighting fixtures and wall art; as well as any additional costs such as taxes and delivery fees.
These can add up quickly if you're not careful. Like sand. It gets in everywhere. Some people hate it. 
Whether you're shopping for Star Wars-themed furniture or just looking for some fun accents, it's easy to find something that fits your functional needs and expresses your Star Wars fandom at the same time. Adding chairs and desks, lamps and murals– there are many pieces available online that feature the iconic characters of this beloved franchise.
A desk featuring Darth Vader or a chair inspired by C-3PO can serve as statement pieces while still providing comfortable seating or a spot to get work done. Consider pieces with bold colors and graphics that instantly give off a Star Wars vibe in the room.
Smaller items like lightsaber lighting, pens, and pencil holders, and other collector items featuring classic scenes can be added later. Once you have chosen the primary items for your Star Wars-themed home office, it's time to add some stylish flair.
This is where the fun begins: Best practices for designing
Utilizing modern technology is easier than ever to bring the galaxy into your workspace. From special lighting effects and custom furniture to exclusive memorabilia and themed digital wall art, there are plenty of ways to make your home office uniquely yours.
I suggest sticking to these tried and tested interior design rules. Designing a Star Wars-themed room is not much different to designing a family living room.
Mix Textures.
Layer Lighting.
Take Risks With Accessories.
Start With a Simple Base.
Always Measure Your Space.
Don't Forgo Functions.
Seek Symmetry.
Invest in Pieces You Love.
There are countless ways to customize your office space with elements inspired by Star wars iconic films. Think outside the box.
The perfect addition to any Star Wars theme home office are lamps featuring classic lightsabers. Not only do these sabers provide a great design element for the room, but also bright illumination for working hours.
For those looking for something more subtle, why not opt for a dimmable and colored LED strip light shaped like an X-Wing fighter? With adjustable brightness settings, you can create just the right mood.
Another great idea featuring iconic characters from the movies such as Darth Vader or Luke Skywalker is to display them on a feature wall with a timber box frame. Add a simple spotlight within the frame and the effect is beautiful.
You could also include LED spotlights designed as star wars motifs to add some drama to the room.
The light side of the force combined with the dark side will actually give you a really well-balanced home office. Some might say it was meant to bring balance.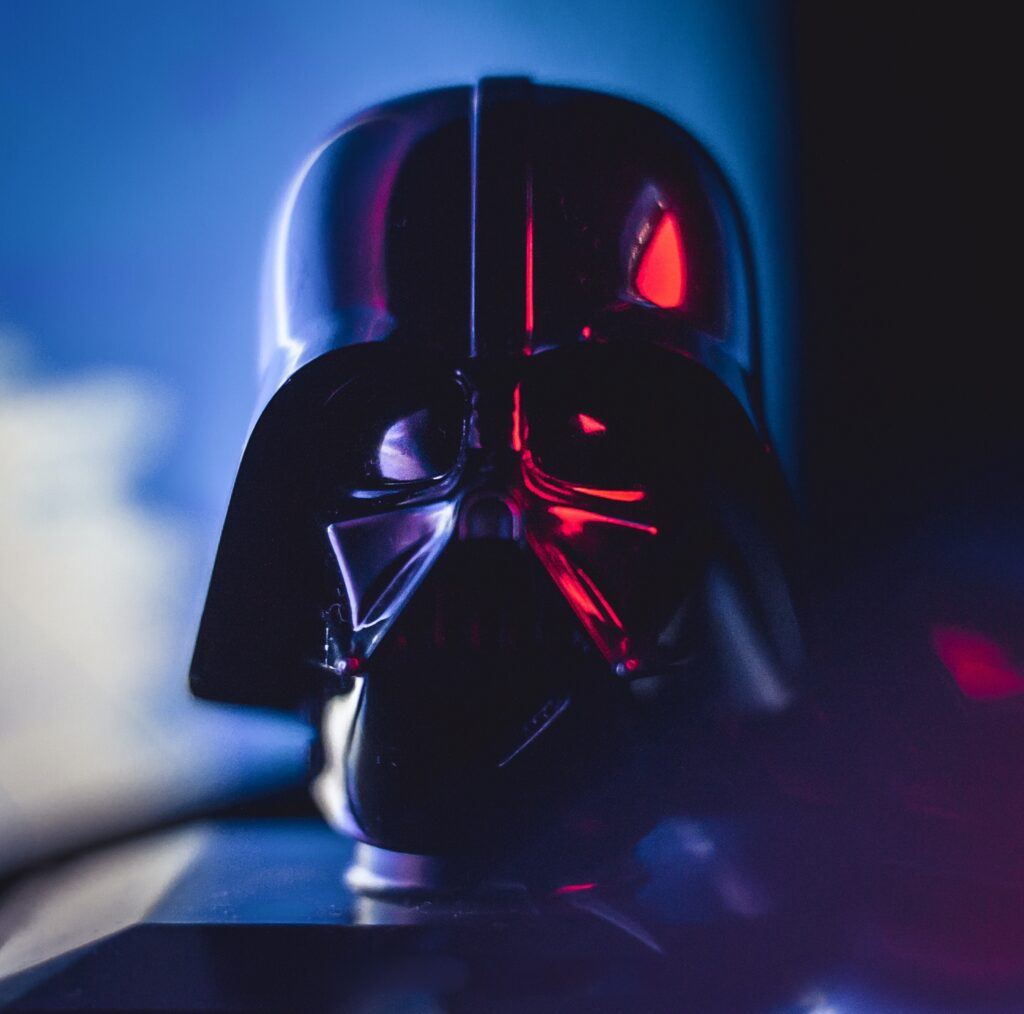 Add some functional accessories like Star Wars themed office supplies
Displaying your Star Wars-themed office supplies is an easy way to add a touch of intergalactic excitement to any workspace.
From pens with saber handles and paper clips that look like droids to sticky notes and magnets, there are plenty of fun options to choose from. Not only will these items bring some joy into your workspace, but they'll also help you stay organized.
Star Wars-themed office supplies come in all kinds of shapes and sizes.
Thanks to advancements in technology, the latest Star wars gadgets feature phone cases that allow wireless charging capabilities. Similarly, the latest mouse pads have special cushioning for added ergonomic support while working at your desk.
Creating the perfect Star Wars home office is all about finding the right balance of comfort and productivity, and incorporating some Star Wars-themed gadgets and devices can be the perfect way to add a touch of sci-fi fun to your work area.
Creating a home office that incorporates a perfect gaming room, home office or baby nursery with a Star Wars theme is a dream come true for many fans.
For many, it can be the difference between feeling productive and inspired or unmotivated and unproductive.
Of course, while aesthetics are key, don't forgo comfort and functionality.
Ergonomics in any workplace setting is essential for comfort, productivity, and overall health. This includes making sure your office chair provides adequate back support and enough room for stretching your legs.
Conclusion: The steps for creating a perfect Star Wars home office setup.
With just a little bit of creativity, you can transform your workspace into the perfect Star Wars home office. Let's do a quick 12-parsec recap.
Don't be afraid to mix different characters and styles to create something unique that reflects your personality.
Choose furniture and accessories that reflect your favourite characters or moments from the series.
Look for pieces with bold colours or designs inspired by classic spaceships and weapons from the films.
Focus on furniture that provides form and function and offers ergonomic value
Set yourself a strict budget and stick with it. You can always add more items later.
To complete the look, hang collectable wall art featuring iconic characters like Darth Vader or Yoda.
Don't forget to add creative, atmospheric lighting – coloured LED desk lamps, neon sabre signs and even strings of fairy lights help create an immersive experience.
For you to succeed with your Star Wars home office, I think it's really about spending some time not buying everything you see, but doing a good job putting together the right thing.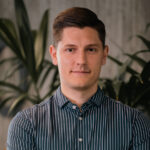 My name is Frederik
I am a passionate marketeer who loves the freedom that comes with working from home whenever I choose to do so.
I love getting nerdy with every single detail about making everything related to my home just a tiny bit better.
That is what motivates me to write about home stuff on this blog.