Working from your lovely home has loads of benefits. One of them is the chance to work from whatever room you want, including your living room. 
If you work from home regularly, you might work in your living room more often than not.  However, if you want to get the most of out doing so, you need to optimize your living room towards being a productive home office space.
Having a designated space is important to help you stay focused and productive. If your living room is feeling a little too cluttered, it might be time to turn it into a home office. By following a few simple steps, you can make your living room the perfect place to get work done.
Can you work from home in your living room?
If you work from home and you do not have your own dedicated home office, then working from your living room may be your only choice. Or preferred choice. No matter what, surely you can work from home in your living room. 
However, it does come with a few challenges. And you may need to be a little adaptable to make it work. In order to make it work you can follow some of these tips:
Choose a spot that has good lighting and is away from any distractions. If possible, set up your desk near a window so you can take advantage of natural light and really get some work done without having tired eyes and feeling drowsy in a bad light.
Make sure your furniture is comfortable and conducive to working. A supportive chair and desk will help you stay comfortable during long work hours. You may find yourself sitting on your couch when working from your living room. But I recommend that you sit by your dinner table with a nice chair. This simulates an office setting better than the relaxed position on the couch. 
Also, make sure there are some storage solutions so you can keep your work area tidy. Cluttering your living room with work-related articles will make it hard to distinguish work time from time off. Make sure your space is clean. 
While there are challenges to working from home in your living room, it is definitely possible to make it work. But sometimes you need to transform your living room more than others to make it work. See more below on how you can turn your living room into a home office. 
How to set up your living room home office
So, this is for you who have decided to turn your living room into a highly productive home office. You may be wondering how to set up your living room so that it functions as both a living space and a home office. Here are some advice for creating a living room home office that is both comfortable and productive:
First, choose a quiet corner or nook in your living room as your work area. If possible, face the window so you have natural light. If you have a favorite space in your living room this could be used to host your home office setup. You just need to focus on finding a place where you can focus the best. 
Then set up a small desk or table and make sure it has enough surface area for your laptop, printer, and any other materials you need. Since you are doing this in your living room you probably don't want a gigantic setup. Find inspiration from the Scandinavian home office style or the minimalistic style. 
Invest in a comfortable chair that you can adjust to suit your needs. This is important since you'll be spending many hours sitting in it. Safety when working from home is important and ergonomics is no exception. If you sit in a bad chair for many hours your body will suffer. 
Invest in good storage. Keep your workspace tidy and organized with storage solutions like baskets or boxes. This is really important as you need to be able to easily turn your living room home office into a living again. 
Remember, your home office should be a place where you can feel productive and comfortable. This goes for your living room as well. 
To add the final touch make sure that you add some personality to the home office setup. Consider some plants that fit both your living room and its function as a home office. Also, see if you can utilize the stuff already in your living like your TV.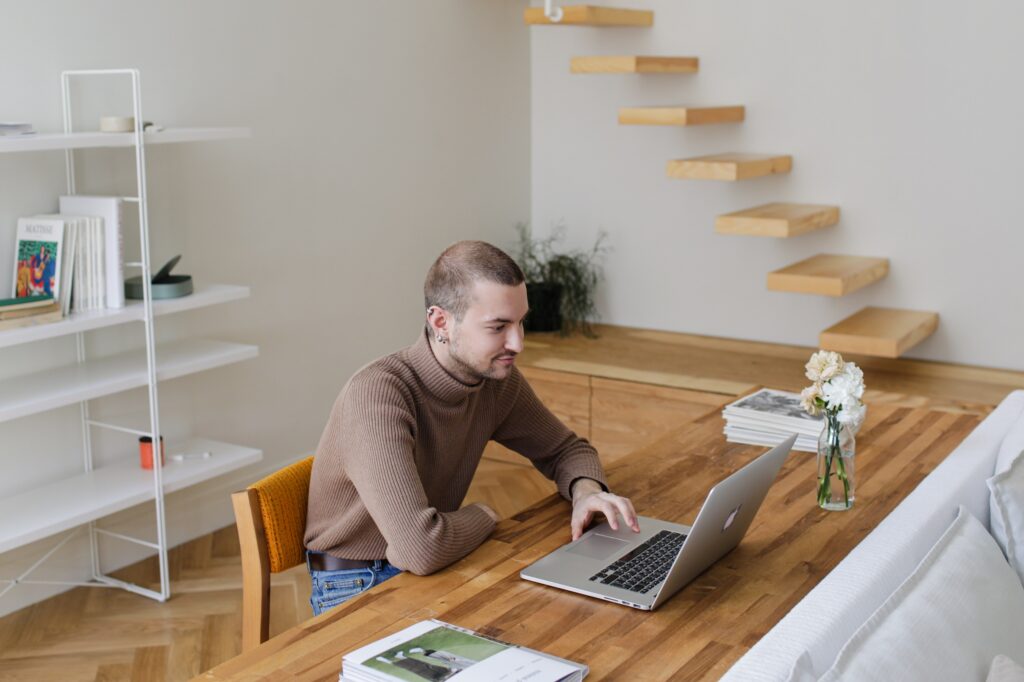 How to stay productive when working from your living room
For many, being in one's living room is relaxing. And that is probably not the sensation you want when aiming for a productive day. So you need to help yourself stay productive. 
Utilizing your dedicated workspace: It can be tempting to work from your bed or the couch, but this will only make you more tired and less productive. That is why it is so important that you set up a dedicated home office inside your living room. 
Remember to take a few breaks once in a while. When working from home it can be easy to forget to take breaks. But it's important to step away from your work every so often to rest your eyes and mind. Get up and stretch, take a walk around the block, or just step away from your desk for a few minutes. That will make it more fun to work from home. 
Keep your living room clean and clutter-free. A tidy space will help you focus on your work and if you have blankets, leftover snacks, and your gaming console laying all over the place you could easily get distracted. 
Make sure you have what you need to be productive. Invest in some quality office supplies. Having nice pens, paper, and other materials will make working from home more enjoyable. An extra monitor, great headphones, and both keyboards and a computer mouse are essential for starting out working from home. 
Set realistic goals for yourself each day. Having a To-Do list in front of you will give you much more satisfaction when the day ends. Seeing how much you have accomplished will help you let yourself off the hook and not work into the night. It will help you stay motivated and focused on your work while enjoying working from your home. 
What furniture and storage units work well in a combined home office and living room?
When it comes to choosing furniture and storage for your living room home office, there are a few things you need to take into consideration. It's important to have a space that is both comfortable and functional. That's why incorporating furniture and storage into your living room home office is key.
The first is the size of your room. You need to make sure that the furniture you choose will fit comfortably in the space you have available.
If you have the space, a dedicated desk is ideal for your home office. But if you're working in a smaller living room, try using a console table or sideboard as your desk. At the most extreme, you can use your coffee table. But not if you work from home regularly.
But finding furniture in the right size is key, so you can still have plenty of surface area to work on without taking up too much space in your living room.
The second is the type of furniture you need. You will want to choose pieces that are both functional and stylish. As your living room still needs to function as a living room when you don't work, you need to consider the style of the office furniture. 
You may have an old blue office chair sitting around but if it does not suit the style of your living room you may want to reconsider. Find yourself some nice furniture that fits your needs and style. That will help you succeed with turning your living room into a nice home office.
Finally, you need to think about storage. You will want to choose pieces that offer plenty of storage options so you can keep your office organized and tidy and easily go back and forth between having a home office and a living room.
For storage, try incorporating floating shelves into your design. This way, you can store all of your office supplies and documents out of sight but still within easy reach. Another option is to use baskets or bins to store items like books, magazines, and electronics.
Conclusion: How to succeed with working from your living room
In conclusion, if you're looking to create a home office in your living room, you can do so by following a few simple steps. 
First, always consider the amount of space you have and what kind of furniture will fit best.
Second, think about the lighting and make sure you have enough light to work comfortably.
Third, make sure you have all the supplies you need within reach.
And fourth, take some time to personalize your space so that it feels like home.
You need to always consider the use of the room for both an office and a living room. If you do so, then you will end up creating a space that's perfect for both relaxing and producing. Who knows, maybe it will be such a great success that you will start finding excuses to work from home?