Working from home can be both extremely convenient but also challenging. One of the biggest challenges is finding a perfect place in your home to set up a productive workspace that isn't disruptive to the rest of your life. If you're limited in square footage, combining a home office and bedroom into one space can be an ideal solution.
This article will guide you through the process of setting up your very own home office space in your bedroom so that you can work from home while still having the comfort of a relaxing bedroom at the end of the day.
Combining a home office and bedroom into one room is a practical way of getting more use out of one area. Whether you're hoping to change a large or small space, there are several ways to combine the two areas to maximize your comfort and productivity.
The idea of a home office/bedroom hybrid space is becoming increasingly popular as people look for ways to maximize their living space and combining these two functions into one area can provide homeowners with the best of both worlds. 
This is especially true if you're someone who works from home regularly.
I spoke with a few of my work-from-home friends about creating the perfect home office/bedroom combo and they unanimously agreed it's important to consider how to divide the space effectively. That is – above all – the most important thing in order to succeed with a combined home office and bedroom. 
But more on that later.
From their experience working from home designating one side of the room for working while using the other side for relaxation and sleep is ideal. This will help you stay organized and focused during working hours while ensuring that your bedroom still feels like a tranquil escape at night when you need to rest. 
There are a number of great reasons to consider adding a home office to your bedroom.
A better balance between work life and home life. Working from a home office can help you spend more time with your family, run errands and give you time to do some household chores.
Less stress and better health.  A demanding work culture can be detrimental to your health. By having a more familiar environment that has been tailored especially for you, workplace stress can be significantly reduced.
Avoid the dreaded commute. Work from a home office/bedroom and your commute is only a matter of a few steps from the bedroom! You won't waste time traveling and having to deal with paying exorbitant prices for petrol, traffic, and roadworks, 
Wear what you like when you like. Wear something comfortable like your PJs and work in a relaxed – but not too relaxed – state.
Greater productivity. A quieter environment and fewer distractions. You're in charge of your time and how to use it to full effect.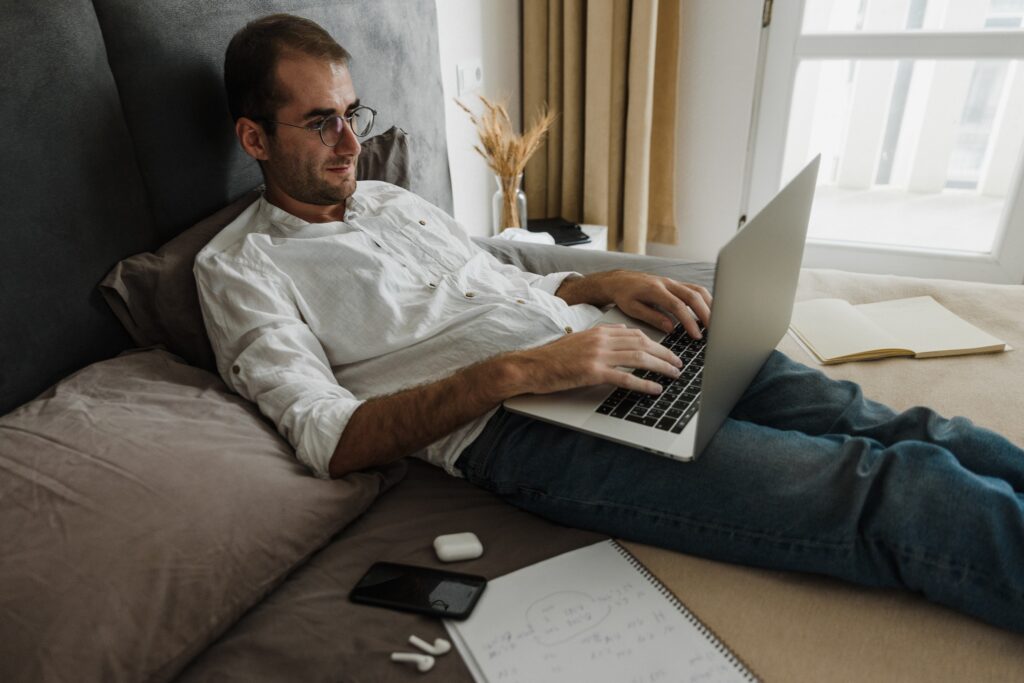 How to maximize the available space of your bedroom / home office
Maximizing available space in your combined bedroom and home office can be a tricky endeavor, but it doesn't have to be an overwhelming task. Combining a bedroom and home office into one room is a great way to maximize the amount of usable space you have without the expense of having to add another room or extend your living area.
 Here are some tips to make the most out of your combined bedroom and office setup and maximize space.
First, consider how much space you need for each function – sleeping and working. Make sure that you allocate enough space for both activities within the same room while still allowing plenty of movement through the area.
Create visually distinct zones within the same room.
If your room is small and can only accommodate a queen size bed, try adding a custom-designed "murphy desk" to the existing wall. This will create a more intimate space and provide you with an ideal work area. 
Consider using dividers such as bookshelves, cabinets, or sheer curtains to further separate the two spaces if your space is larger.
Additionally, consider the layout carefully when deciding where the furniture will go—opt for pieces that are space-saving yet stylish such as corner desks or wall-mounted shelves and cabinets.
Removing a bedside table and replacing it with a designer table and chair and adding shelves or a closed cabinet for storage will keep everything in order.
Declutter. No one can possibly rest easy if your bedroom/home office is an unorganized disaster. Use the principles of the Scandinavian or minimalist home office styles. 
The real key to any successful design when combining a bedroom and home office is to ensure each area is clearly defined but includes neutral colors, textures, and a few standout furniture choices in each section of the room.
Just be sure that the two functions of the same room don't overlap as this will create some sense of clutter. 
Utilize Multi-Purpose Furniture
Multi-purpose furniture is a great way to make the most out of a combined bedroom and home office and is every designer's go-to. If the designer is asked to design the combination of a home office and a bedroom, naturally. 
While it may seem difficult at first to have both a sleeping space and an area for work combined, utilizing multi-purpose furniture can help make the process easier. By choosing pieces that are specifically designed for both comfort and functionality, you can create a room that is ideal for rest as well as productivity.
There are many great multi-purpose furniture items available on the market today, so whatever your style or budget there are options to suit your needs. 
For example, a sofa bed can provide comfortable seating during the day while also offering an extra sleeping option at night; or consider investing in items like ottomans with ample storage inside. A desk with drawers beneath or a bookcase with adjustable shelves and lockable doors will allow you to easily store all of your paperwork while keeping your space organized. 
A couch can also be a great addition to a separate home office. 
I'm a huge fan of custom-designed built-in furniture that offers practical solutions to seating, sleeping, working, and storage. These can also help you if you wish to set up a workspace under your stairs. 
You could also install a Murphy bed. Murphy beds can work well for small spaces with different functions, but especially for a bedroom office. Placing the bed up and into the wall makes the space feel like a dedicated office rather than a combined space. Putting the bed away will also help you avoid using your laptop in bed, which is an absolute no-go. At least if you want to feel productive, that is. 
Always just keep your work devices out of your bed. 
Not only will this help you sleep better, but it'll also help create that divide between home and work, so it doesn't feel like you're always working.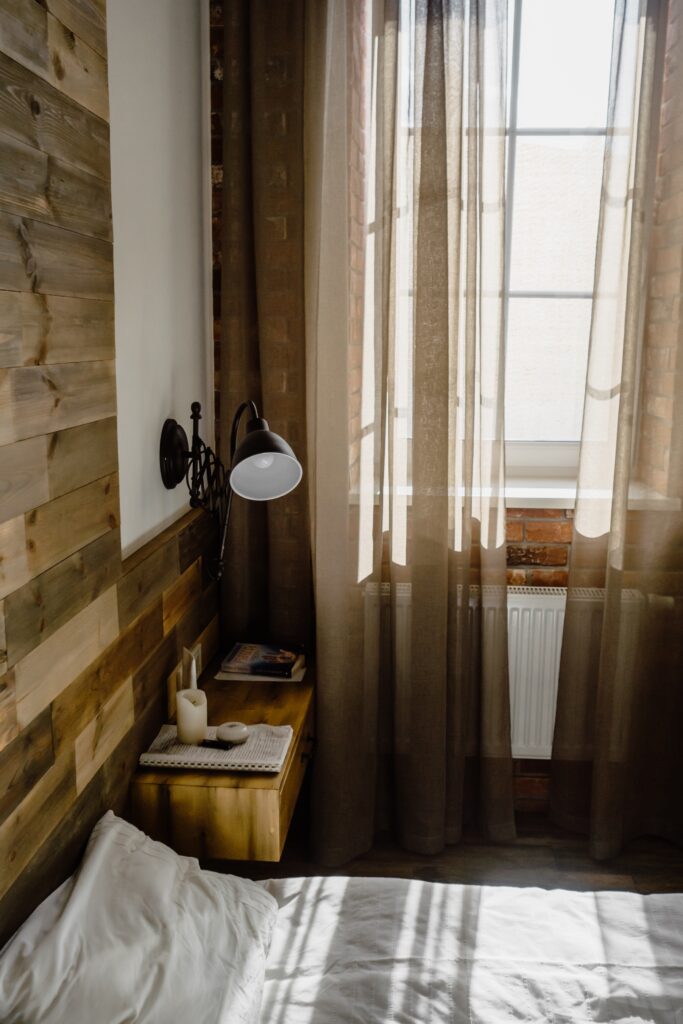 Design Around Your Needs when combining a home office with your bedroom
Designing a combined bedroom and home office around your needs is an important task. Actually the most important, as it is you who is going to use the room for many hours each day.
You may not be an interior designer or have a creative bone in your body but put simply: It requires making the most of limited space while also creating a sense of calm that meets your needs.
With careful planning and a few tips from us, you can make the perfect combination of a bedroom and workspace that is both functional and a beautiful reality.
Let's get started on creating this combined space.
Where will you place your bed? Your desk? What colors do you want to use for each area or should you keep it simple and just choose one?
My designer friends all agree that designating specific areas for different activities such as reading or relaxing is the overall priority. We then discussed other important questions to help you succeed in achieving your needs.
Consider the type of work you will be doing – do you need plenty of workspaces? 
Will you require extra storage? Are ergonomics just as important in the home office?
Below you will find a list of best practices for designing around your needs
Choose neutral colors and add navy blue, sage green, or black/gray/white for your office area, it creates a calming atmosphere. This is great for both productivity and relaxation. It may even create a sense of "hygge"
Position your desk near natural light sources.  It helps foster creativity.
Install open shelves or closed cabinets nearby to provide easy access to documents when needed. 
Go retro and repurpose a second-hand credenza or something simple. A simple repaint, new legs, and cupboard pulls will give your space a wow factor. This will fit right into the combination of the home office and the bedroom
Using sheer white curtains or a hand-painted screen is another effective way to separate work and sleep areas. Closing the curtains when you're done is a direct way to signify the end of the workday.
If you choose a foldable bed like a Murphy, folding that as well signals the start of a new day thus making it easier to get going with your work
Consider Color & Lighting
When you're combining two different functions into one room, it's important to consider how colors and lighting will affect the overall impact of the room. Getting the right color scheme and choice of lighting can make or break a workspace that has been perfectly planned.
There are so many choices to decide what colors to paint your shared bedroom-office space. Have you seen how many whites are available? It's mind-boggling…
Consider choosing colors that are neutral yet energizing; shades such as blue/gray, sage green, or teal blues are on trend. 
Painting the walls with one of these hues and coordinating furniture pieces in darker strengths of the same color is this season's go-to.  
To add luxury designer touches, accessories such as throw pillows, rugs and objects or framed art will keep the vibe exciting.
For lighting, natural light is always ideal for any workspace; task lighting is essential, particularly at desk level to provide more illumination when necessary. See more lighting ideas for the home office here. 
The idea of under-bench or cabinet LED lighting will create an atmosphere and if your budget allows going for a showstopping pendant lamp with strategically placed low-wattage lighting throughout the space for specific functions. If possible add dimmer switches to your lighting.
In that case, you can use the lighting for the exact fitting purpose of the time.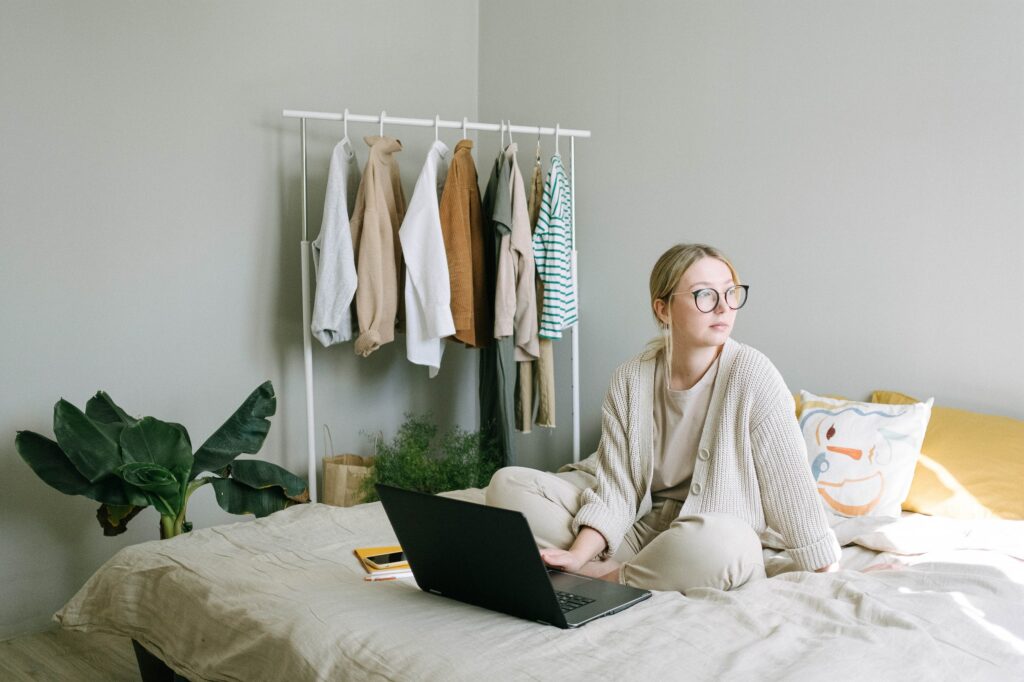 Create an Inspiring Environment
Whether you're a freelancer or a full-time employee now working from home part-time or all the time, creating an inspiring environment in your home office is key to productivity and creativity. Actually, if your workspace is not inspiring, you might end up hating working from home. 
Your space should inspire you—and reflect your unique personality.
We all want to design a space that is fashionable, functional, and reflects our unique personality. 
For me, personally, a black accent wall adds some drama and depth to the space, and I added a chandelier above my desk to add a little glitz and glamor. The retro sideboard I sourced from a second-hand store keeps the space organized, serving as a storage unit for personal products and a countertop for office supplies.
The functionality of the space makes it possible to stay on top of the business side of my career while the chic decor provides the perfect backdrop for my videos and Instagram photos.
But that is just for me. For you:
Try to ensure a balanced home office that is practical, ergonomic, comfortable, and clean—if these elements aren't in the place you'll end up working at the kitchen table. 
A beautiful plant is said to help keep you feeling calm and clean the air—plus it looks great too. I like either a snake plant or a ZZ plant. Both look fantastic, are good for cleaning the air, and are low maintenance. 
Fill your office with vibrant and unique art to energize your space and make you feel motivated. I create my own artwork and have it framed. It's personal to me.
Another alternative is limiting your collection to black-and-white images so that the color in the space doesn't become too overwhelming. 
Don't be afraid to steal decor from other rooms in the house.
A mix of vintage and modern makes a home feel warm, lived in and personal.  Pair a gorgeous antique with a new red or black high-gloss chair.
Nobody works well in a messy home office. The organization is key.  Don't waste an ounce of space by tucking printers, filing, etc. into corners and in drawers. Use all your vertical space by putting cabinets up to the ceiling with varying types of storage and a wall-hanging pinboard to help organize supplies that might otherwise end up shoved in a drawer.
Conclusion: How to succeed with your combined home office and bedroom
Our newly remodeled bedroom/home office is now a success. If you followed the tips in this guide, of course. So, how did we get the look?
Assessing our space; for size, shape, and needs. 
Determine how much room is available for each activity. 
Choose multitasking furniture pieces and invest in high-quality with plenty of storage options. 
Separate zones for work and rest with the help of screens or curtains. 
Adding color and texture. 
Lighting needs specific design so take your time and think of what you need
Organizing your space with practical solutions.
Splurge on artworks that you love.
Think carefully about ergonomics and functionality.
Plants offer clean air and are beautiful to look at.
Creating a multi-purpose space does not have to feel forced. With a little thought into how the space needs to function, you can easily blend the two together with gorgeous results.
Wake up, get dressed (or not), make coffee, and head over to do some work at your desk. There are, without a doubt, many perks to working from home office/bedroom: no commute time, fewer interruptions, and more control over your work environment. But it also brings with it the need to make conscious decisions about how you work most efficiently, and how your workspace can help.
Be careful not to do too well as you will constantly be looking for excuses to work from home in your nice combined home office and bedroom.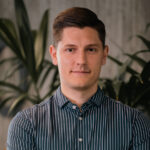 My name is Frederik
I am a passionate marketeer who loves the freedom that comes with working from home whenever I choose to do so.
I love getting nerdy with every single detail about making everything related to my home just a tiny bit better.
That is what motivates me to write about home stuff on this blog.