For many homeowners, the area under their staircase can be a tricky and often awkward space. However, if you are looking for an inspiring and unique way to create a home office, it might be time to consider using the area under your stairs. An office beneath the stairs can be a functional and visually pleasing addition to your home.
Having extra space under your stairs to create a workspace can be a great way to add both value and practicality to your home. Creating a home office under the stairs allows you to make use of an often unused area of your home, while still having the privacy and convenience of having your own dedicated workspace.
With careful planning and thoughtful design, you can create an efficient home office under your stairs that fit perfectly into your existing décor.
Creating a home office under the stairs is becoming increasingly popular among homeowners who are looking to maximize their living space. Not only does this provide an additional area for work or storage, but it also helps create a more organized and efficient living environment. And it is not only for those who live in a smaller space. Bigger homes can still benefit from utilizing the space below the stairs. But most likely, it would be people with limited space looking into having a home office under the stairs. 
When you're short on space, creating a home office under your stairwell can be an ideal solution. This small hidden workspace will help keep all of your important documents, files, and supplies out of sight yet easy to access when needed. Also, space under the stairs is often wasted. With a home office, it definitely is not. 
Having a home office under the stairs can save a significant amount of money compared to traditional remodeling costs. The area underneath the stairs is typically unused space which means that there are no additional remodeling costs associated with transforming this area into an efficient workspace.
Furthermore, setting up a desk or storage system in this area does not require any structural changes and can be done quickly and easily without drastically affecting your budget. Especially if you take a minimalist approach to the home office. 
By having the workspace placed under the stairs you won't have to take up space in another room. You can then use that solely for the purpose of a separate bedroom, nursery, home gym, or whatever you want – the home office does not take up any space.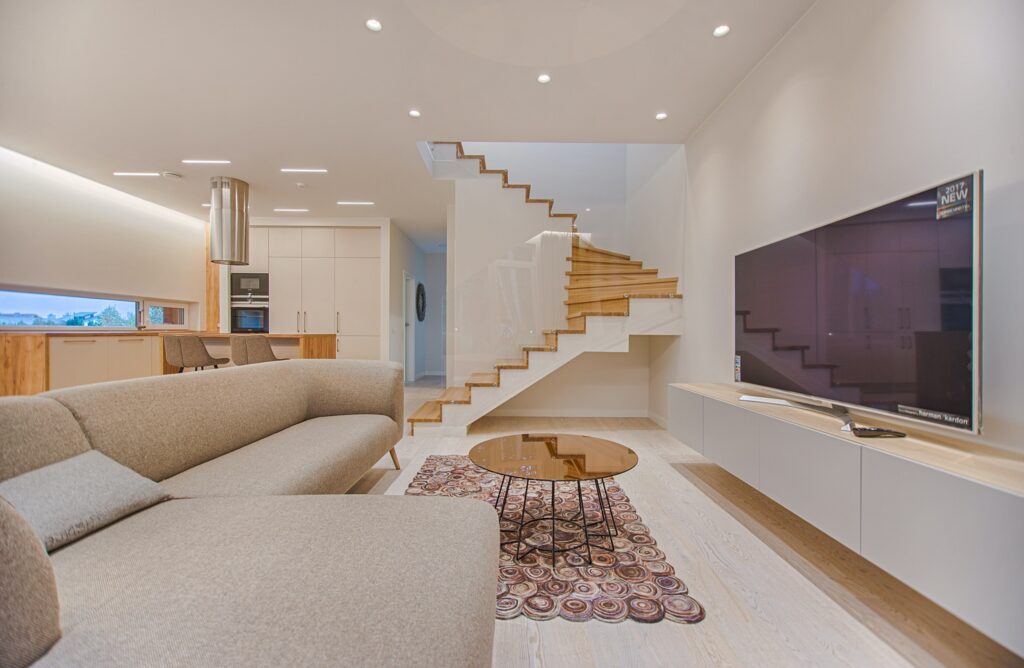 Before setting up your home office under your stairs
Creating a home office under your stairs can be an incredibly effective way to make use of otherwise unused space. But before you set up your home office under the stairs, there are several considerations that you should take into account.
First and foremost is safety; making sure the area is structurally sound for furniture and electrical equipment such as computers and printers.  Make sure that the structural integrity of the stairwell can actually handle your project – if it's not stable enough to support shelving or furniture, it may be best to reconsider.
Also, make sure that the space under your stairs is actually intended to be used in that way. If the space is cold, closed and not inviting, setting up a home office underneath your stairs may not be a great idea.
Additionally, lighting should be considered carefully in order to provide adequate illumination for work purposes while not being overly bright or discomforting when sitting at the desk. Lighting is extremely important for enjoying work and staying productive. 
Insulation should also be taken into account if noise reduction is desired when working from home. If there is a lot of traffic on the stairs you are sitting below you may well be interrupted all the time. That does not make for a great workspace. 
Ventilation needs to also be installed or improved upon depending on existing conditions; this will reduce humidity levels which can damage computer hardware in particularly small spaces as well as provide fresh air when working long hours indoors.
If your stairs have an open space beneath them then you won't have to worry about that part.
Budget is also a huge factor in determining whether or not you can set up your own home office under the stairs. If you're on a budget, consider setting everything up by yourself instead of hiring someone to do it for you. It s easier than you think, and if you're handy with tools, it can be a fun project as well. 
If you spend money on your home office setup you can use the Simplified Option for Home Office Deduction to get deductions on your taxes. 
Exploring the possibilities and maximize the use of your under-stairs-home office
As mentioned, creating a home office under the stairs can be an ideal way to maximize the use of space in your home. Not only for working from home uses. With a few creative touches, you can create a functional and comfortable workspace that will also give you extra storage space.
One of the first steps in creating your home office is to measure the area under your stairs and plan accordingly. Determine whether or not there is room for furniture such as desks or bookcases for storage. You should also consider if there are adequate electrical outlets for any lighting or appliances that you may need.
Once you've made these considerations, it's time to get creative. You can find a lot of different furniture specifically designed to fit under stairs which makes them perfect for your combined home office and storage space under your stairs. 
Installing shelves, drawers, cabinets, and other furniture pieces with storage can turn it into an organized storage space. In that case, you can save on storage in other rooms.
Installing bookshelves is particularly relevant for a home office. I will provide much-needed storage for all of those important documents and files you need to store away but don't want to clutter up other spaces in the house. And then you have it just by hand when working.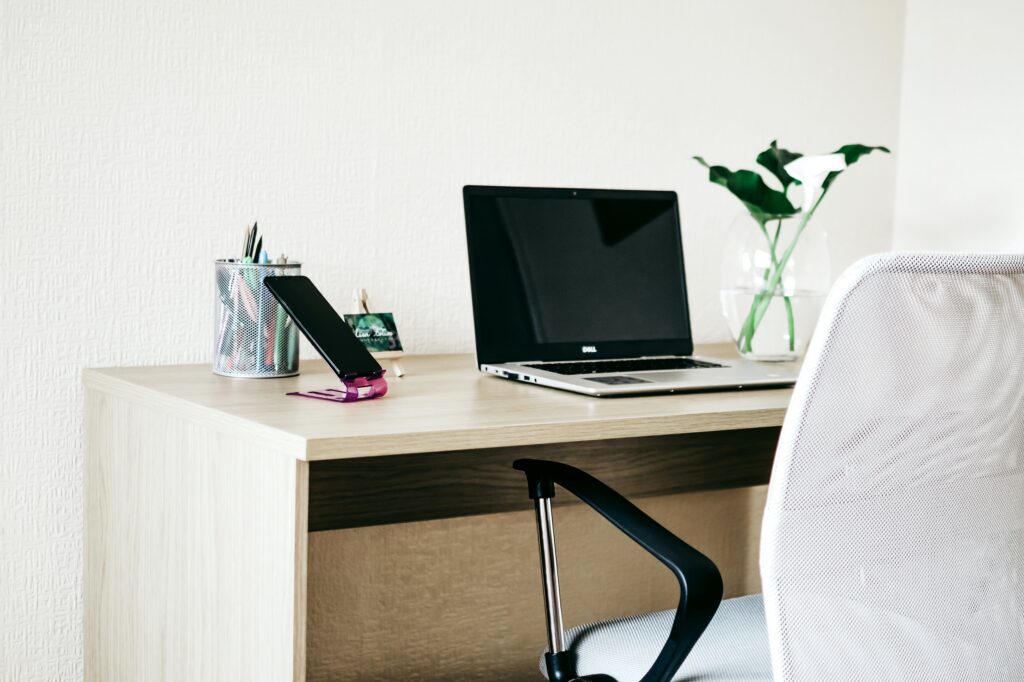 Creative Design Tips for the home office under the stairs
Creating a home office under the stairs can be a pretty tough task. With limited space and difficult access, it can be hard to decide what to do with this unique area of your home. But with a little creativity and design know-how, you can turn this rather awkward spot into a stylish and functional workspace. 
Start by considering how you want to use the space; if you need room for just one person or two, then aim for cozy furnishings like cushioned seating in bright colors or plush armchairs. If more people will be working there, then look for desks that fit snugly into corners or even fold away when not in use.
All of this depends on the space available under your stairs.
A built-in desk is an excellent option for those looking to make the most out of their space. This workstation can be customized to fit perfectly into any size or shape of the stairwell and will provide plenty of storage options as well. But you must be able to craft one yourself or set aside funds for a professional to do so. However, it really can prove its worth in the long run as you will get the most out of your space.
Alternatively, you could also opt for wall-mounted shelves or floating cabinets which could still give you ample amounts of storage while taking up minimal space. The more you can hang from the walls, the better.
You could also opt for wall-mounted monitors or displays as well as open shelving units that give off an airy feel while still providing ample storage for your organizational needs. If your computer monitor is wall-mounted you can manage with a smaller desk as you save space from the monitor.
Step-by-Step: Setting up the Home Office under the Stairs
When setting up a home office under the stairs, it's important to carefully plan in order to ensure that it is functional and comfortable. Here are some steps to follow when setting up a home office under the stairs:
Measure and assess the space: First, measure the dimensions of the space under the stairs to determine the size and layout of your home office. Consider factors such as lighting, electrical outlets, and ventilation. You may also want to consider the height of the ceiling – where the stairs end – and see if you can sit below them at all. 
From this, you know the limitations of the space below your stairs. And possibilities, of course. 
Next, think about the type of work you'll be doing in your home office and what equipment and supplies you'll need at the bare minimum. Will you need a desk, a computer, and office supplies, or will you also need storage space for documents and materials? Make a list of the essentials to ensure that your home office is well-equipped. 
If the space under your stairs do not allow you to incorporate all of this, you might want to reconsider using it as your workspace. 
Choose furniture and storage solutions: Once you know what you need, it's time to start shopping for furniture and storage solutions. Look for pieces that are compact and fit well in the space under the stairs, such as a small desk and a filing cabinet. If the space is tight, consider using stackable storage bins or a set of shelves to keep your supplies organized.
It will come naturally to you when you know the limits you work within.
Finally, don't forget to add some personal touches to your home office. Hang up some artwork or photos, bring in a plant or two, and add a rug or throw pillows to make the space more inviting. A little bit of decor can go a long way in making your home office under the stairs feel like your own.
Conclusion: A home office under your stairs can be really beneficial
In conclusion, having a home office under your stairs can be a great solution to the lack of space in most households. It is a creative and cost-effective way to utilize the often wasted space beneath the stairs. It offers privacy, organization, and comfort which makes it an ideal workspace for those who work from home or need a place to study. The versatility of this space allows for personalization so it suits any needs.
Additionally, this structure can help create a calming atmosphere that reduces stress levels, improves focus, and boosts productivity. Mainly because the semi-closed area under the stairs will feel somewhat like a real home office in a dedicated room. 
All these factors make converting an unused space under your stairs into an office a great idea for anyone looking to set up their own workspace at home.
It also adds a unique charm to your home and can provide you with the perfect place to work. Finally, if you have unused space under your stairs, why not consider transforming it into an office?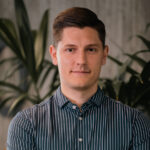 My name is Frederik
I am a passionate marketeer who loves the freedom that comes with working from home whenever I choose to do so.
I love getting nerdy with every single detail about making everything related to my home just a tiny bit better.
That is what motivates me to write about home stuff on this blog.