Have you considered adding a couch to your home office? When it comes to furnishing a home office, one of the biggest and most expensive decisions we make is whether or not to include a couch.
Couches can take up valuable space when space is often limited in a home office. For some, having a couch in your workspace may make it difficult to stay focused, motivated and productive, but it can also provide a comfortable place for creative thinking and relaxation and a perfect place to take a phone call and enjoy a coffee. For some, it is the other way around.
Deciding to purchase a couch is actioned by analyzing your personal needs within your home office. Is a couch beneficial to your work environment? Can it double as a spare bedroom for visitors? Or is it an expensive luxury?
A versatile arrangement works well for informal meetings with clients, and casual family chats and the family dog will also love it. See more below to be sure whether you should put a couch into your home office or not.
Why would people consider adding a sofa to their home offices?
When it comes to furnishing your own home office, most of us focus on the basics: a desk and chair, a computer, and maybe a few shelves for books and files. That's also great if you work within a prison compound. Or just prefer a minimalist style, of course.
But why not make your workspace more comfortable with an addition of a couch? For many people having stylish furniture and accessories can make all the difference and feel much more inspired. 
A comfy couch in your office space creates an inviting atmosphere that encourages collaboration between coworkers, hosting impromptu meetings or interviews while providing ample space for individual activities in the convenience of your home.
Having a couch in your home office is one of the best ways to maximize productivity and efficiency in a work-from-home situation. It allows you to move to a different location within the home office. It creates variation and stimulates our senses because it gives us a new spatial awareness within the room.
At times throughout the work day, who doesn't want to take a break from sitting at their desk? A couch in the home office gives us a chance to relax away from the computer screen, to revive and refresh. Also, adding a couch is a great way to add some coziness or "hygge".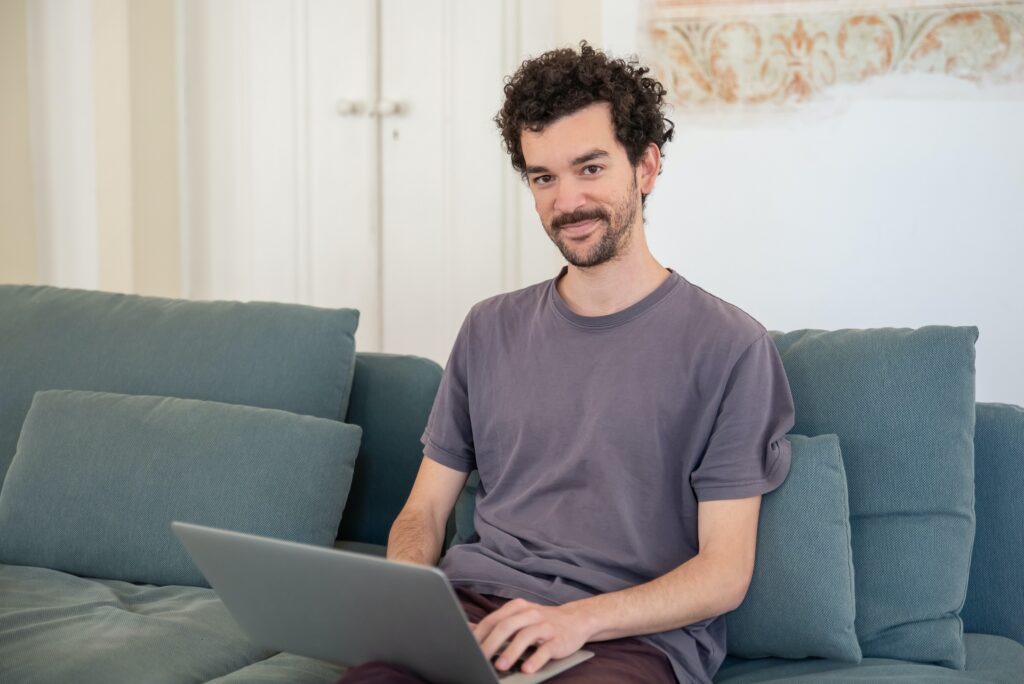 Benefits of Placing a Couch in your Home Office
If you're someone who works from home, it is important to stay focused, motivated, and comfortable. You can add many items that can help make your home office an inspiring place to work and one of the simplest solutions is adding a couch.
Having a comfortable spot for taking breaks helps break up long hours in front of the computer screen and enhances your home office ergonomics. It gives you another area for socializing with family or chatting with friends online. Adding a cozy couch makes it easier to step away from your desk and relax.
Working from the couch can be a great way to get more out of your limited space if you have a small home office and little space. A couch in your home office is an easy way to create additional workspace when needed. It can help free up family spaces, removing work clutter from the living room or dining table and if carefully curated can provide a stylish space when you have visitors staying overnight.
Simply add a sofa bed if you wish to invite guests over to stay the night and want to have a room with multiple purposes.
Incorporating a couch into your home office creates a stylish, cleverly designed multiple-use space within your home. A separate area like a home office primarily dedicated to business activities during weekdays can help you stay focused. The perfect couch in your home office adds functionality by creating a multi-purpose zone, with different uses, such as client meetings, and a thinking or meditation zone whether that is for business or for family and friends.
That same space in your home can be enjoyed by other members of the family for their individual interests, after work hours and on weekends. This helps create a happy atmosphere reducing stress levels and giving each other much-needed space within the home.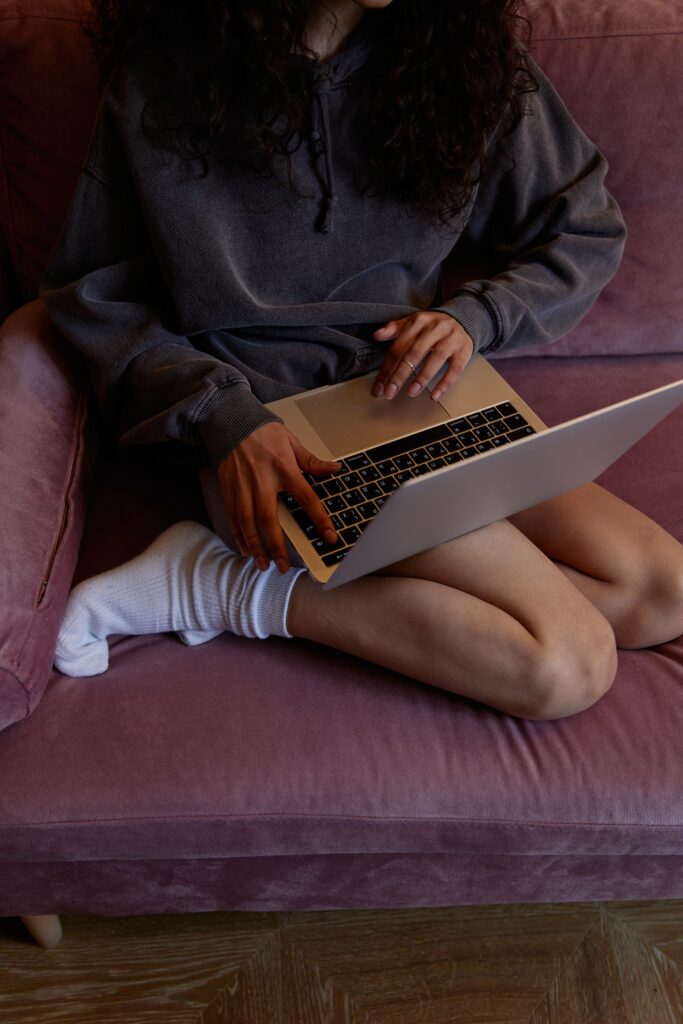 Practical Considerations: Is your office even big enough for the sofa?
So, you've decided to set up a home office. A home office is a great place to get work done, but it can be difficult to make the most of a limited space. If you need extra seating or simply want to add some much-needed style to your home office, the idea of adding a new sofa might sound appealing. However, it is important to consider all of the practical options before buying furniture. Is your home office big enough for the couch you want?
When assessing the size of the space and of the couch needed, there are several things to think about. Unless you are an experienced interior designer or an expert in multi-functional rooms and spaces, it is easy to overlook practical considerations. Before heading out to purchase your desired addition to your home office, remember you have to be able to get it home and into your office.
Will your new couch fit into the lift, and building staircase?
Can you easily maneuver your home office couch through your front door?
Is the chosen couch easily moved within the interior of the apartment/home?
The scale of the room
How much free space is available for a couch?
Consider the available space for additional pieces of furniture: desks, chairs, and tables
Spatial movement; When in position, can you freely move around your new couch?
Take measurements. It's vital to ensure everything can fit comfortably without being crammed together.
Measure ceilings, windows, and doorways and sketch a diagram of how you wish to set out all office furniture, not merely your new couch.
The architecture of your home can't easily be changed and therefore will impact furniture placement
Tip: Cut out cardboard boxes to the correct size of your furniture and place them on the floor area to indicate spatial awareness. This is much easier than moving furniture around!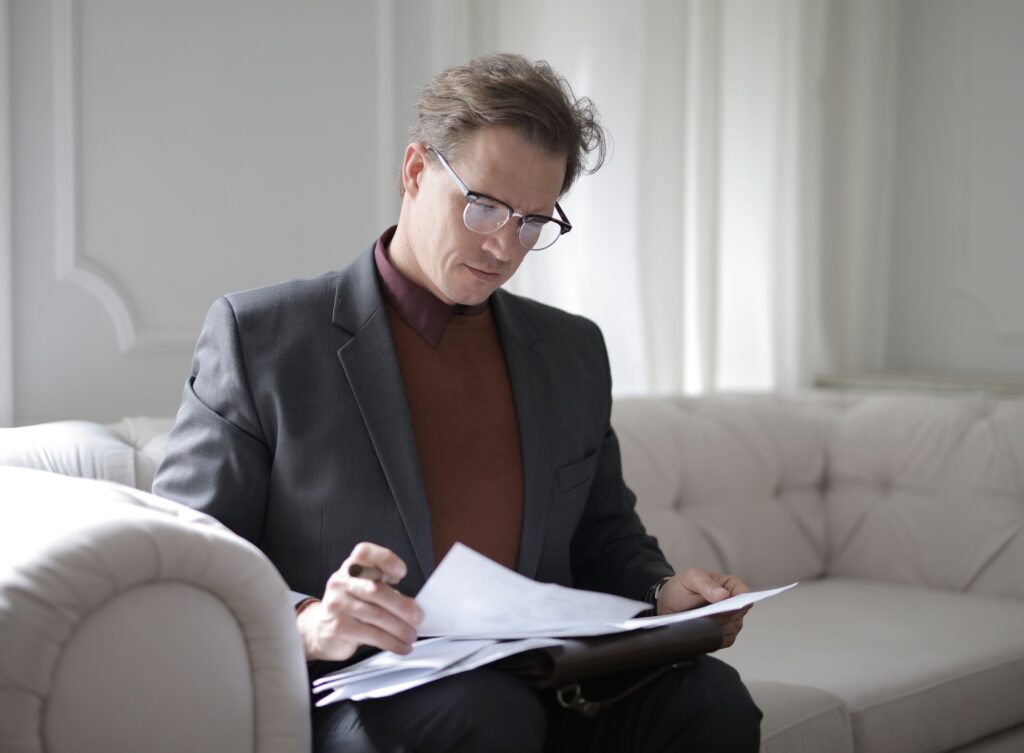 Ideally, where should you place a couch in your home office?
Location is key when deciding on the perfect spot for your couch. Having a comfortable and stylish couch in your home office can make it much more appealing, but only if it is located in the perfect spot. If you plan on having meetings, entertaining clients or just wishing to hang out with friends, having a couch is an ideal choice for any home office.
So how do you decide where the ideal location for your new home office sofa is? If possible, try to place the couch near natural light sources. This will immediately create an inviting atmosphere that encourages productivity while also making use of all the available space in your room. 
An aesthetic appeal requires you to carefully measure the room's permanent architectural points including doors, windows, fixed light fittings, ceiling fans or airconditioning ducts, and heating radiators. Don't forget the contents of the room (fixtures and fittings) the electrical and data outlets and switches, your desk and chair, bookshelves, or storage spaces.
This will assist your selection when shopping for your perfect couch.
Adding a couch or sofa bed can be a great way to add comfort and style to your home office, but before you go out and make the purchase, it's important to do your homework. A little careful planning makes the difference between an expensive mistake and a more welcoming, comfortable, and ergonomic home office for your clients, employer, family, and friends.
Conclusion: Should or shouldn't you place a couch in the home office?
The decision to place a sofa in the home office is ultimately up to each individual and their respective work and home life needs. If you have adequate space within your home, why would you not make your workspace more ergonomic and comfortable?
Consider all of your needs and wants when creating an efficient workspace.
If having a couch helps create an atmosphere that is conducive to productivity, a few simple adjustments can make your home an efficient workspace. Consideration of the size of your space, the function it will serve and how much time you plan to spend there is necessary.
A high-quality, well-made sleeper couch will be durable, comfortable, and have longevity in your home. It will act beautifully as a couch when the room is an office and it will provide unparalleled comfort for sleeping when guests come to stay.
When space is limited, it may be best to stick with a traditional desk/chair combo and add an upholstered accent chair. These are exceptional lounge chairs that easily convert to a single bed. 
If by now you think a couch in your home office would be beneficial for creating a comfortable, productive environment, then, by all means, go ahead and purchase one. 
The answer to all of this is definitely yes, add a couch to your home office, if you have the space to do so.